In the table below you will find the dimensions of all our products.  Keep in mind the following when deciding which Shield or Ultimate Shield is right for your vehicle:
There are two measurements for our products which you can find in the "Specifications" section by product. For example Ultimate Car ShieldTM .    Refer to the graphics below for more details on definitions and the full product list and dimensions.
"Internal Dimension" is the space available for your vehicle.
"Exterior Dimension" is the space required for the device in your garage.
Measurements of your vehicle should be taken from the longest external point. If you don't know the dimensions of your vehicle just Google: "Dimensions Year Make" (i.e. "Dimensions 1966 Corvette").  Sites like https://www.carfolio.com/specifications/ or www.wikipedia.com can also help.

Consider antennas, exhaust pipes, side mirrors etc. and accessories such as roof racks, etc.
Add about 8 inches (20cm) to the longest measurement of your vehicle and this becomes the minimum-length size of the Shield you should order.

Example: 1966 Chevrolet Corvette:

175.1 inches + 8 inches = 183.1 inches total
445 cm + 20 cm = 465 cm total
Therefore the 16' Shield (or bigger) would work in terms of length.  You need to check the width and height in the same way.
Your vehicle doors can be accessed via the lateral zippers (Ultimate Car/Bike Shield only).
There needs to be a minimum of 1 foot (30cm) from the fan behind the device to allow for the circulation of air and the pump connection.
Once inflated, the device may be slightly larger on the clear panels but the pillars will remain to spec. (Ultimate Car/Bike Shield only).
If in doubt, call or write to us at

[email protected]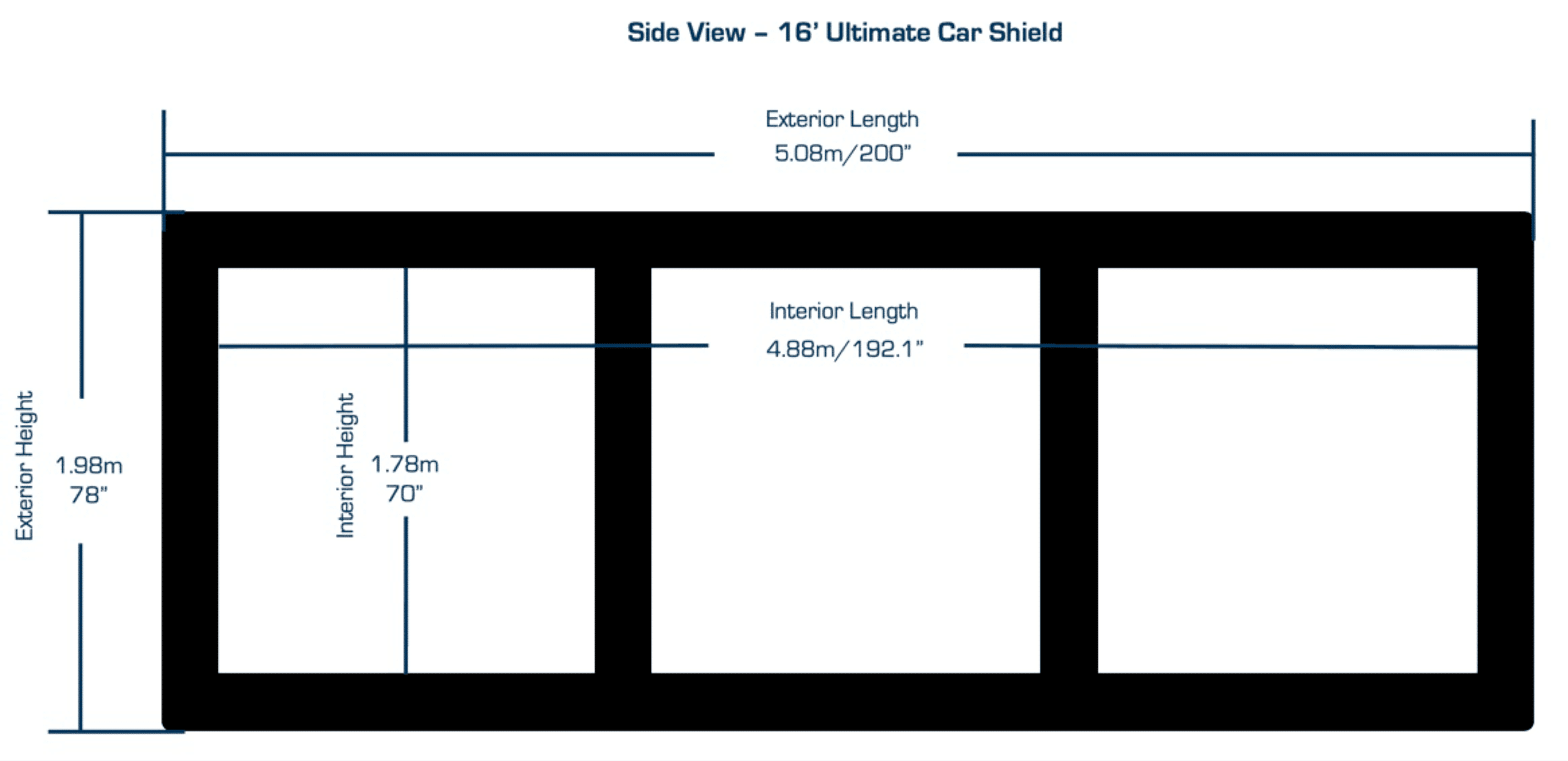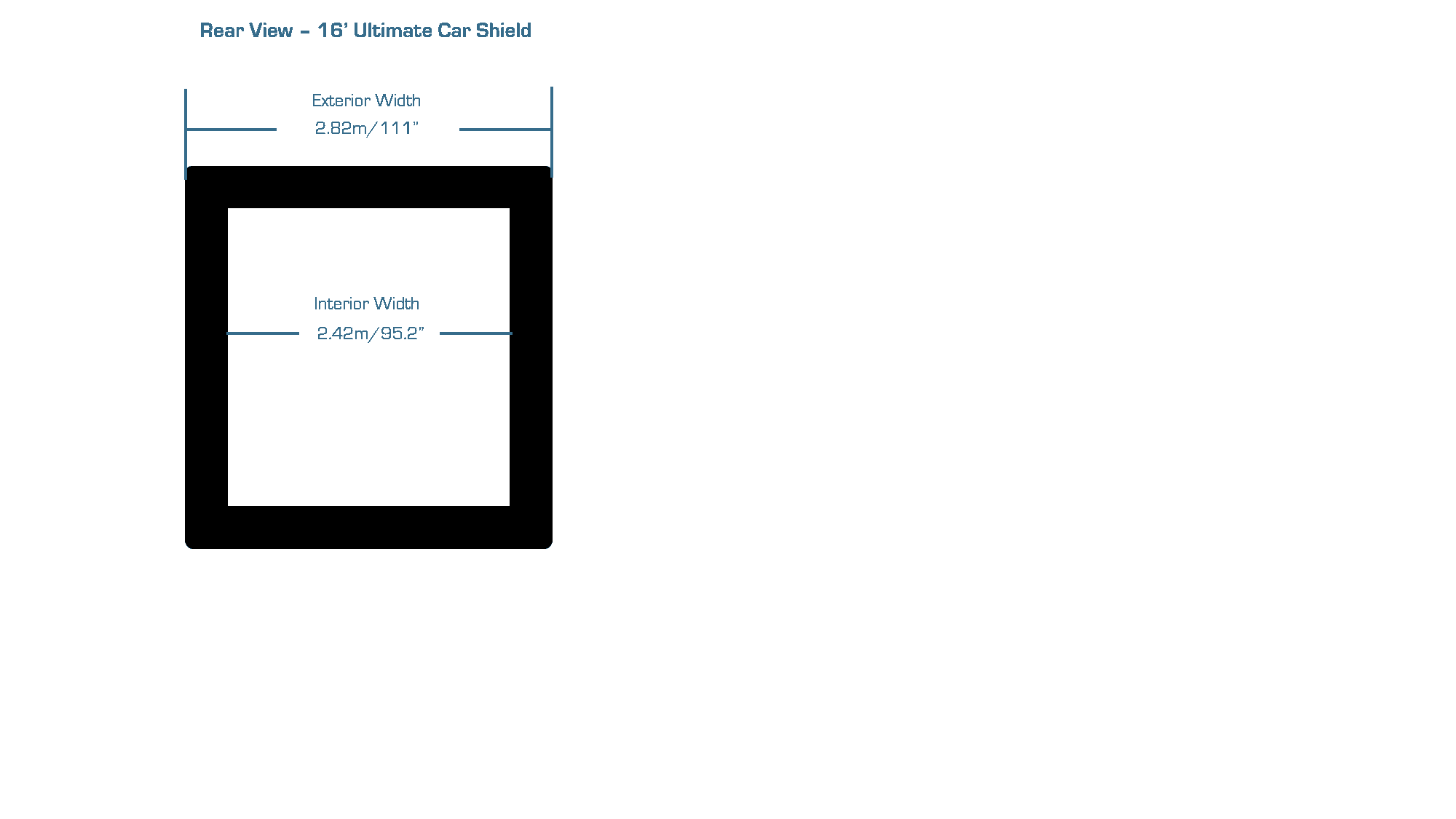 | SKU | Product Name | Version | Exterior Dimensions Inches (LxWxH) | Interior Dimensions Inches (LxWxH) | Exterior Dimensions Meters (LxWxH) | Interior Dimensions Meters (LxWxH) | Frame colour | Floor colour |
| --- | --- | --- | --- | --- | --- | --- | --- | --- |
| ITGBS12B | Bike Shield | 12 | 144.1 x 31.9 x 68.1 | 144.1 x 31.9 x 68.1 | 3.66 x 0.81 x 1.73 | 3.66 x 0.81 x 1.73 | n/a | Black |
| ITGCS10B | Car Shield | 10 | 120.1 x 72.0 x 59.8 | 120.1 x 72.0 x 59.8 | 3.05 x 1.83 x 1.52 | 3.05 x 1.83 x 1.52 | n/a | Black |
| ITGCS12B | Car Shield | 12 | 144.1 x 72.0 x 59.8 | 144.1 x 72.0 x 59.8 | 3.66 x 1.83 x 1.52 | 3.66 x 1.83 x 1.52 | n/a | Black |
| ITGCS14B | Car Shield | 14 | 168.1 x 78.0 x 68.1 | 168.1 x 78.0 x 68.1 | 4.27 x 1.98 x 1.73 | 4.27 x 1.98 x 1.73 | n/a | Black |
| ITGCS16B | Car Shield | 16 | 191.7 x 78.0 x 68.1 | 191.7 x 78.0 x 68.1 | 4.87 x 1.98 x 1.73 | 4.87 x 1.98 x 1.73 | n/a | Black |
| ITGCS18B | Car Shield | 18 | 216.1 x 78.0 x 68.1 | 216.1 x 78.0 x 68.1 | 5.49 x 1.98 x 1.73 | 5.49 x 1.98 x 1.73 | n/a | Black |
| ITGCS18TB | Car Shield | 18/T | 216.1 x 78.0 x 79.9 | 216.1 x 78.0 x 79.9 | 5.49 x 1.98 x 2.03 | 5.49 x 1.98 x 2.03 | n/a | Black |
| ITGCS20B | Car Shield | 20 | 240.2 x 78.0 x 68.1 | 240.2 x 78.0 x 68.1 | 6.10 x 1.98 x 1.73 | 6.10 x 1.98 x 1.73 | n/a | Black |
| ITGCS10BC | Car Shield | 10 | 120.1 x 72.0 x 59.8 | 120.1 x 72.0 x 59.8 | 3.05 x 1.83 x 1.52 | 3.05 x 1.83 x 1.52 | n/a | Black & White |
| ITGCS12BC | Car Shield | 12 | 144.1 x 72.0 x 59.8 | 144.1 x 72.0 x 59.8 | 3.66 x 1.83 x 1.52 | 3.66 x 1.83 x 1.52 | n/a | Black & White |
| ITGCS14BC | Car Shield | 14 | 168.1 x 78.0 x 68.1 | 168.1 x 78.0 x 68.1 | 4.27 x 1.98 x 1.73 | 4.27 x 1.98 x 1.73 | n/a | Black & White |
| ITGCS16BC | Car Shield | 16 | 191.7 x 78.0 x 68.1 | 191.7 x 78.0 x 68.1 | 4.87 x 1.98 x 1.73 | 4.87 x 1.98 x 1.73 | n/a | Black & White |
| ITGCS18BC | Car Shield | 18 | 216.1 x 78.0 x 68.1 | 216.1 x 78.0 x 68.1 | 5.49 x 1.98 x 1.73 | 5.49 x 1.98 x 1.73 | n/a | Black & White |
| ITGCS18TBC | Car Shield | 18/T | 216.1 x 78.0 x 79.9 | 216.1 x 78.0 x 79.9 | 5.49 x 1.98 x 2.03 | 5.49 x 1.98 x 2.03 | n/a | Black & White |
| ITGCS20BC | Car Shield | 20 | 240.2 x 78.0 x 68.1 | 240.2 x 78.0 x 68.1 | 6.10 x 1.98 x 1.73 | 6.10 x 1.98 x 1.73 | n/a | Black & White |
| ITGCS10ODG | Outdoor Car Shield | 10 | 120.1 x 72.0 x 59.8 | 120.1 x 72.0 x 59.8 | 3.05 x 1.83 x 1.52 | 3.05 x 1.83 x 1.52 | Grey | Black |
| ITGCS12ODG | Outdoor Car Shield | 12 | 144.1 x 72.0 x 59.8 | 144.1 x 72.0 x 59.8 | 3.66 x 1.83 x 1.52 | 3.66 x 1.83 x 1.52 | Grey | Black |
| ITGCS14ODG | Outdoor Car Shield | 14 | 168.1 x 72.0 x 59.8 | 168.1 x 72.0 x 59.8 | 4.27 x 1.83 x 1.52 | 4.27 x 1.83 x 1.52 | Grey | Black |
| ITGCS16ODG | Outdoor Car Shield | 16 | 191.7 x 78.0 x 68.1 | 191.7 x 78.0 x 68.1 | 4.87 x 1.98 x 1.73 | 4.87 x 1.98 x 1.73 | Grey | Black |
| ITGCS18ODG | Outdoor Car Shield | 18 | 216.1 x 78.0 x 68.1 | 216.1 x 78.0 x 68.1 | 5.49 x 1.98 x 1.73 | 5.49 x 1.98 x 1.73 | Grey | Black |
| ITGCS20ODG | Outdoor Car Shield | 20 | 240.1 x 89.7 x 68.1 | 240.1 x 89.7 x 68.1 | 6.10 x 2.28 x 1.73 | 6.10 x 2.28 x 1.73 | Grey | Black |
| ITGCS22ODG | Outdoor Car Shield | 22 | 263.8 x 89.7 x 79.9 | 263.8 x 89.7 x 79.9 | 6.70 x 2.28 x 2.03 | 6.70 x 2.28 x 2.03 | Grey | Black |
| ITGUCS16ODG | Outdoor Ultimate Car Shield | 16 | 16.7' x 9' x 7' (peak 10') | 16' x 8' (entrance 6.5') | 5.1 x 2.8 x 2.2 (Peak 3.0) | 4.9 x 2.3 (Entrance height 1.98) | Grey | Black |
| ITGUCS18ODG | Outdoor Ultimate Car Shield | 18 | 18' x 9' x 7' (peak 10') | 17.3' x 8' (entrance 6.5') | 5.5 x 2.8 x 2.2 (Peak 3.0) | 5.3 x 2.3 (Entrance height 1.98) | Grey | Black |
| ITGUCS20ODG | Outdoor Ultimate Car Shield | 20 | 20' x 9' x 7' (peak 10') | 19' x 8' (entrance 6.5') | 6.1 x 2.8 x 2.2 (Peak 3.0) | 5.8 x 2.3 (Entrance height 1.98) | Grey | Black |
| ITGUCS22ODG | Outdoor Ultimate Car Shield | 22 | 22' x 10' x 9' (peak 11' ) | 21' x 8.3' (entrance 7.8') | 6.7 x 3.0 x 2.7 (Peak 3.4) | 6.4 x 2.5 (Entrance height 2.3) | Grey | Black |
| ITGUCAMPS26G | Ultimate Camper Shield 26' Outdoor | 26 | 27' x 10.5' x 12' peak | 26' x 8.5' (entrance 10') | 8.3 x 3.2 x 3.6 peak | 8.0 x 2.6 x 3.3 (Entrance 3.1) | Grey | Black |
| ITGUCAMPS29G | Ultimate Camper Shield 29' Outdoor | 29.5 | 30.5' x 12' x 12' peak | 29.5' x 10' (entrance 10') | 9.3 x 3.6 x 3.7 peak | 9.0 x 3.0 x 3.3. (Entrance 3.1) | Grey | Black |
| ITGUBS12B | Ultimate Bike Shield | 12 | 144.1 x 57.9 x 72.0 | 136.2 x 42.1 x 64.2 | 3.66 x 1.47 x 1.83 | 3.46 x 1.07 x 1.63 | Black | Black |
| ITGUCS12B | Ultimate Car Shield | 12 | 152.0 x 86.6 x 78.0 | 144.0 x 70.1 x 70.0 | 3.86 x 2.20 x 1.98 | 3.66 x 1.80 x 1.78 | Black | Black |
| ITGUCS14SLIMB | Ultimate Car Shield | 14 slim | 176.0 x 100.4 x 78.0 | 168.1 x 84.6 x 70.0 | 4.47 x 2.55 x 1.98 | 4.27 x 2.15 x 1.78 | Black | Black |
| ITGUCS14B | Ultimate Car Shield | 14 | 176.0 x 111.0 x 78.0 | 168.1 x 95.2 x 70.0 | 4.47 x 2.82 x 1.98 | 4.27 x 2.42 x 1.78 | Black | Black |
| ITGUCS16B | Ultimate Car Shield | 16 | 200.0 x 111.0 x 78.0 | 192.1 x 95.2 x 70.0 | 5.08 x 2.82 x 1.98 | 4.88 x 2.42 x 1.78 | Black | Black |
| ITGUCS18B | Ultimate Car Shield | 18 | 224.0 x 111.0 x 78.0 | 216.0 x 95.2 x 70.0 | 5.69 x 2.82 x 1.98 | 5.49 x 2.42 x 1.78 | Black | Black |
| ITGUCS20B | Ultimate Car Shield | 20 | 247.6 x 111.0 x 78.0 | 240.0 x 95.2 x 70.0 | 6.29 x 2.82 x 1.98 | 6.09 x 2.42 x 1.78 | Black | Black |
| ITGUCS22B | Ultimate Car Shield | 22 | 271.7 x 111.0 x 78.0 | 263.8 x 95.2 x 70.0 | 6.90 x 2.82 x 1.98 | 6.70 x 2.42 x 1.78 | Black | Black |
| ITGUCS12W | Ultimate Car Shield | 12 | 152.0 x 86.6 x 78.0 | 144.0 x 70.1 x 70.0 | 3.86 x 2.20 x 1.98 | 3.66 x 1.80 x 1.78 | White | Black & White |
| ITGUCS14SLIMW | Ultimate Car Shield | 14 slim | 176.0 x 100.4 x 78.0 | 168.1 x 84.6 x 70.0 | 4.47 x 2.55 x 1.98 | 4.27 x 2.15 x 1.78 | White | Black & White |
| ITGUCS14W | Ultimate Car Shield | 14 | 176.0 x 111.0 x 78.0 | 168.1 x 95.2 x 70.0 | 4.47 x 2.82 x 1.98 | 4.27 x 2.42 x 1.78 | White | Black & White |
| ITGUCS16W | Ultimate Car Shield | 16 | 200.0 x 111.0 x 78.0 | 192.1 x 95.2 x 70.0 | 5.08 x 2.82 x 1.98 | 4.88 x 2.42 x 1.78 | White | Black & White |
| ITGUCS18W | Ultimate Car Shield | 18 | 224.0 x 111.0 x 78.0 | 216.0 x 95.2 x 70.0 | 5.69 x 2.82 x 1.98 | 5.49 x 2.42 x 1.78 | White | Black & White |
| ITGUCS20W | Ultimate Car Shield | 20 | 247.6 x 111.0 x 78.0 | 240.0 x 95.2 x 70.0 | 6.29 x 2.82 x 1.98 | 6.09 x 2.42 x 1.78 | White | Black & White |
| ITGUCS22W | Ultimate Car Shield | 22 | 271.7 x 111.0 x 78.0 | 263.8 x 95.2 x 70.0 | 6.90 x 2.82 x 1.98 | 6.70 x 2.42 x 1.78 | White | Black & White |